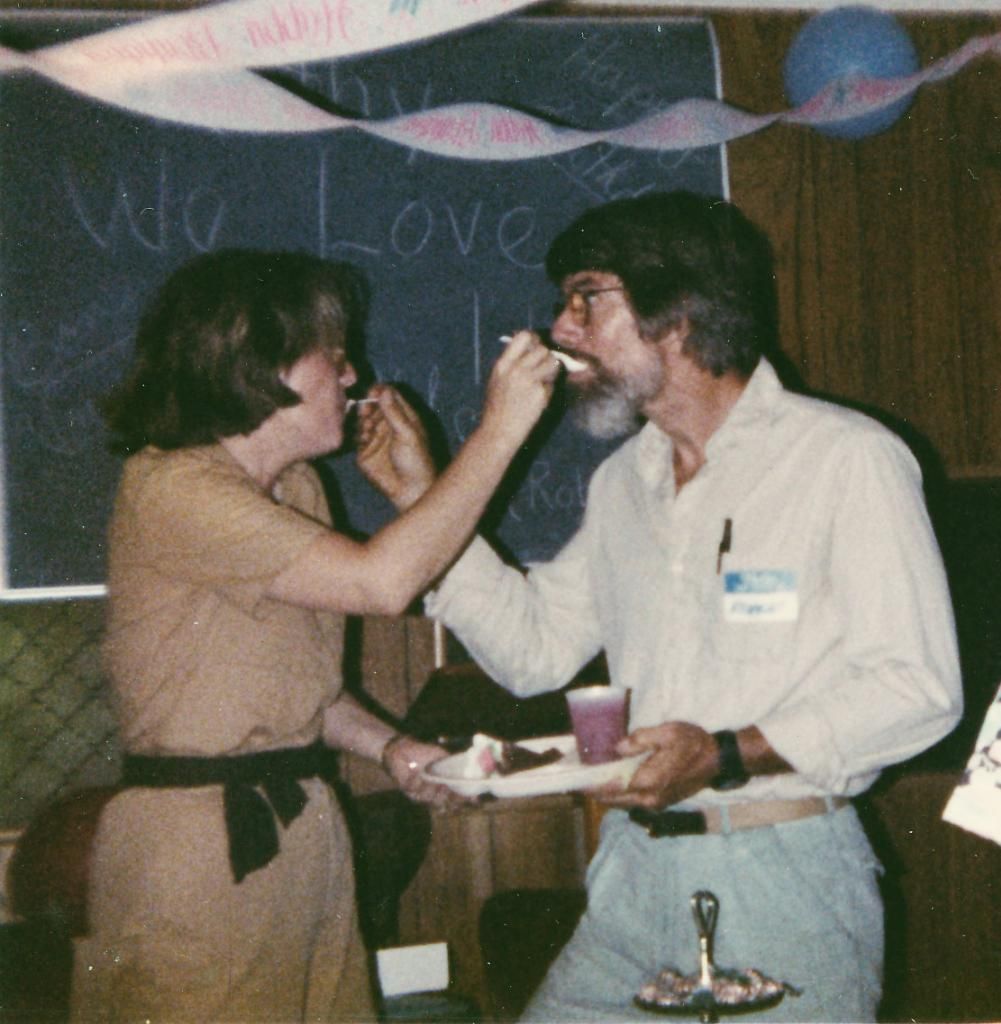 Welcome to Kathy's 180 Story. If you want to skip the journey and see the results, just scroll down; then click here. But if you want to go to the Virgin Islands, and Hawaii, and Costa Rica, Mexico, Italy, and Africa, read more...


Moving to the Virgin Islands when I was 30 gave me an opportunity to find the man of my dreams. Here we are celebrating at my surprise birthday party. I could enjoy cake and still be skinny!
SEE KATHY & ROBERT in the Virgin Islands. SEE KATHY EAT CAKE. SEE KATHY'S WAIST.
Years past and I started gaining a couple of pounds a year. It really did sneak up on me. I have the very distinct memory of shopping for a skirt in Ala Moana Shopping Center in Hawaii (yes, we moved from the Virgin Islands to Hawaii) and I couldn't fit into a 6 and bought a size 8. I wasn't that worried. Size 8 isn't that bad. .......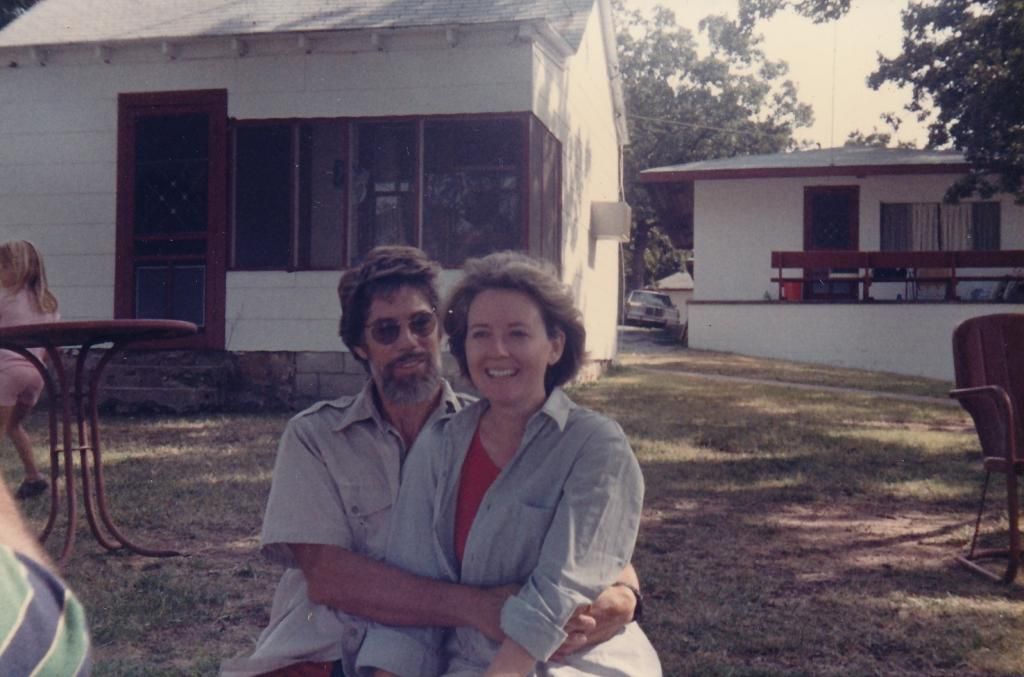 I started wearing baggier clothes. Just easier to hide, I guess. Time marched on.

Here's Robert and I at a Family Reunion at a Lake. I think maybe he's thinking that there is just more of me to love!! Size 10 isn't that bad.
SEE KATHY AND ROBERT AT A LAKE IN THE US. SEE KATHY'S BIG SHIRT. WHERE IS KATHY'S WAIST?
Robert and I have had a wonderful life, with experiences that has filled us with the wonder of human nature, the goodness of God and lots of great memories. The one thing I have enjoyed no matter where we were living was cooking. I have had more fun cooking over an open fire in Africa, on a hot plate in Costa Rica or buying fresh vegetables at an open market in Mexico.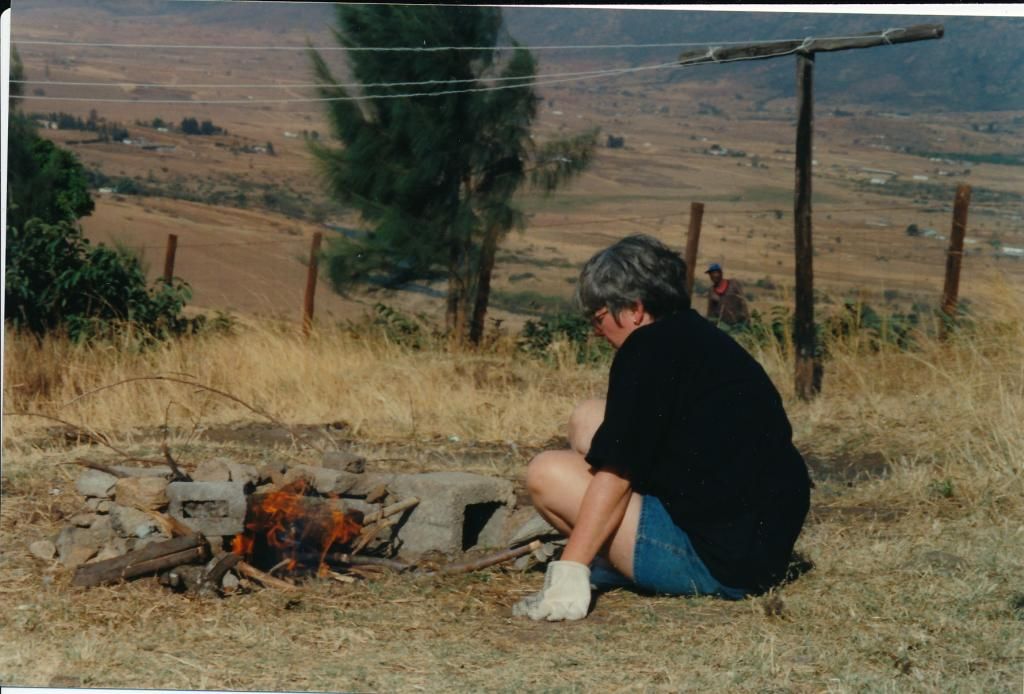 I became a favorite stopping-off place for kids and neighbors in Africa once I had conquered Chocolate Cake made with "emasi" (Africa's version of buttermilk). Now, I was one of the few Peace Corps volunteers who did fill the suitcases with kitchen supplies. I was the only to show up with Hershey's cocoa stowed away. I just knew of all the things I wanted to share with my new African friends was cooking. It truly is an international language.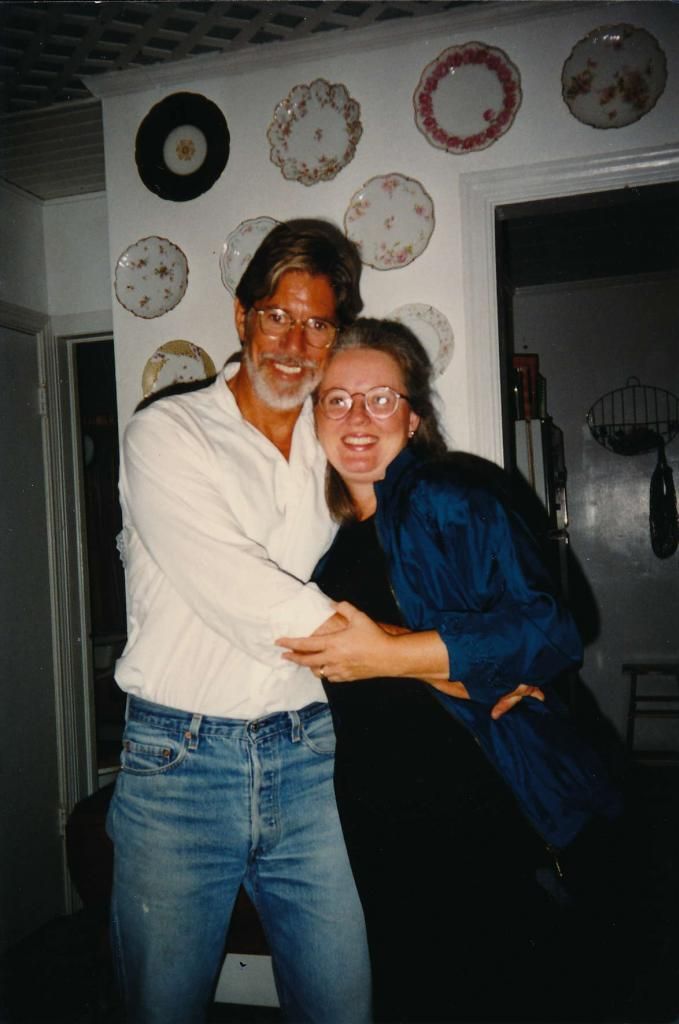 BUT, that does bring us to an important part of the story. We were living in Florida and hating our jobs. I read a Peace Corps ad in a MacWorld Magazine. When Robert and I made up a list of pro's and con's on whether we should join Peace Corps, LOSING WEIGHT was 2nd on my list of "pro's".
We went to Swaziland, Africa and eventhough I planned on cooking, I was confident that I would come back to the USA more svelt. While serving, I worked with street kids and one of my goals was to create some type of business that would produce income to support a non-profit that served the street kids in Manzini. What did I do? There was an abandoned building that had been a bakery. I cleaned and painted and scrubbed and wrote a grant to get new ovens... the next thing I know we're baking yeast buns (called "bunnies") that were sold daily by the kids. The first day I think we baked about 150 buns. In a year, we were doing almost 2,000 a day. They were buns that melted in your mouth, with a special butter and sugar syrup that was painted on top. Can you see where this is headed? I left Africa at the end of 2 years weighing more than when I got there. THAT's JUST WRONG on so many levels.
SEE KATHY. SEE KATHY'S BIG SMILE. WHERE'S THE PLUS SIZES?
When Shaklee introduced a weight management product, I got on the program and lost 25 pounds. Hurrah! No more size 18's!and 2x's!!! And being a size 14, okay sometimes a 16... isn't all that bad. I somehow convinced myself that I just never was going to be "petite" again.
August 2012 ~ things changed

I was sitting in a workshop at the Shaklee Convention in Las Vegas, wondering if there was a possibility that I could be beautiful again. All the talk at the Convention was about the weight loss program and I was inspired by Mary Cunningham. I told my sister, "I could look like that if I really tried." Then three things happened:
I got ashamed. When I checked my BMI at the Expo, the chart said I was obese. I was so mad at myself.
I got committed. I signed the commitment with my goal of 137 pounds.
I got brave. I went up to my hotel room with two other Shaklee Distributors who were attending the Convention with me and I had them take a picture of me for my before picture.

When I got home, my whole life began to Turnaround.
I've cried. I've yelled. I owe my husband Robert a huge "Thank You" for being so supportive. Yes, I sat and acted like a 4-year old and said, "I want to eat a real breakfast. I want a donut." He would remind me of my goal. And I would just grit my teeth and say, "I'm doing this."
I'm proud of where I am. I'm excited about where I am going.
Next stop: Photo Shoot San Francisco
Shaklee 180 Healthy Competition Winner
Exciting to say the least was the day when Shaklee called and told me I had won their Healthy Competition and a photo shoot in San Francisco! My twin sister and co-founder of KathyandKaren.com went with me. It was great fun and has really energized us to share Shaklee 180 because there are so many people in desperate need of changing their lifestyle to become healthier.
Here's Kathy at the photoshoot. You can tell she's having fun!
And that's another important part of life - fun! We know it's serious business and that sometimes it is a battle for some people's life.
Ready to join their army to Battle Obesity? Someone you know or maybe even you needs to realize that there is not only hope, there is help just a phone call or email away.


But our goal is also to have fun!

To demonstrate, I loaded up potatoes to
represent how hard it is to carry extra
weight!

I have found my Happily Ever After-After! I am able to do things like to the beach at sunrise - not because I have to - but because I want to.

Join us!

Click here if you are ready to start your turnaround or let us know any questions you have and we will be happy to help you!